Clean Go Pet® Maximum Absorbency Puppy Pads are specially scented to attract puppies and make house-training easy. Each antimicrobial pad holds 10 cups of liquid and offers 6 layers of protection.
Great for home-all-day pets, multiple-puppy households, and incontinent pets, our
Clean Go Pet® Maximum Absorbency Puppy Pads
hold 10 cups of liquid.
Pads neutralize odors and are specially scented to attract dogs
With 6 layers of protection and antimicrobial properties
Great retail packaging will make these a customer favorite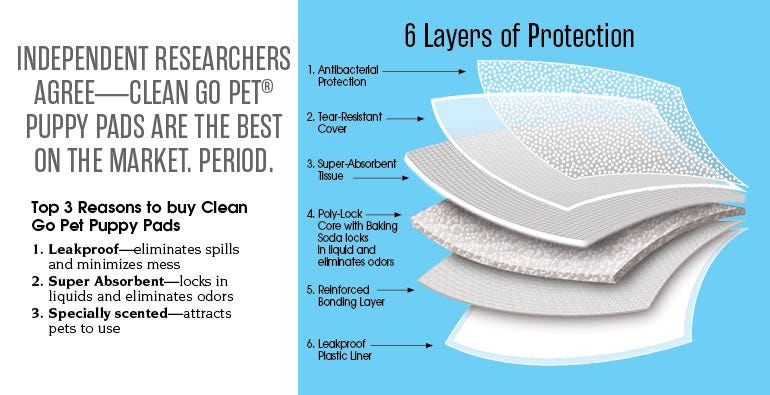 Material:
Polymer

Size:
Pads measure 22"L x 23"W
Available in the following amounts
: 80 Count and 160 Count
Puppy Pad Directions:
Place pad in an area that is easily accessible to your dog at all times, but away from its sleeping and eating areas.
Introduce dog to pad to allow it to become accustomed to the pad's special scent.
If you don't catch your dog in the act of making a mistake, do not punish it after the fact. Praise and reward the dog when it eliminates on the pad.
When the dog is using the pads properly on a regular basis, move the pads closer to the outside door. Then eventually move the pad outdoors and eliminate the inside pads.
Shipping Info
: This product is not eligible for free or discounted shipping.
More Information

| | |
| --- | --- |
| Primary Brand | Clean Go Pet |
| Product Grouping | Own Brand |
| Allows Free Shipping | Yes |
| UOM | EA |
| ERP Status | Unknown |