WELCOME TO PETEDGE.COM
Home Page ― Our home page is designed to make it easy for you to find the products that you need. You can search for products, log on and manage your account, sign up for email special offers, and see the latest and best products that PetEdge has to offer.
Search for Your Product ― To search for a product by SKU, keyword, or name, use the search box in the upper right. Our "smart suggestion" feature will show you previews of the closest matches while you type, making it easier to find an exact match. Click on the smart suggestion to go directly to that product's detail page, or click the Search icon for full search results.
Navigate to Your Product ― You can also find the products you're looking for by using the mega menu at the top of every page on the site to navigate through to our most popular product categories. We have streamlined our category options into the eight most-frequently shopped areas of our site, making it even easier to shop for the products you need. You can mouse over the menu categories to find a complete list of subcategories, sub-subcategories, and other special features.
Category Landing Page ― Once you arrive on the category landing page, you can dig deeper down to the product level by clicking on any of the subcategory images. The side navigation can also be used to easily browse through different categories.
Product Detail Page ― The product detail page presents product information, images and other details to help you make your purchasing decisions.
Click on any of the images that you see for a closer look at the products.
Look for Free Offers! We have hundreds throughout the site and we'll note it in the text for you.
Because your opinion matters to us, you can rate and review products on the detail page and see what other PetEdge shoppers are thinking about their purchases.
Free Offers ― There are many Free Offers scattered throughout the website. When you purchase an item that contains a Free Offer, the free item is automatically added to the shopping cart and is available throughout the checkout process. For mix-and-match "buy three, get one free" promotions, when four items are added to your cart, the break pricing kicks in automatically (you'll get a discount off of each product that is the equivalent of getting one product free). Questions? Please call 800-PetEdge.
Add to Cart ― To add a product to your cart, select the type and quantity of product desired, and click the red "Add to Cart" button. You'll see a preview of your cart which gives you a brief look at your cart contents and allows you the ability to immediately check out.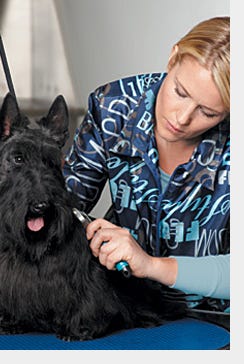 CHECKOUT PROCEDURE
When you click Checkout, you'll first view your Shopping Cart where you can check the inventory status, increase the number of items, remove items from the cart, enter promotional codes, or continue shopping.
There are five quick and easy steps to Checkout:
Log on
Billing Info
Shipping Info
Payment
Review and Place Order
1. Log Into Your Account. If this is your first time ordering from the new PetEdge.com, registration is required. That way, we'll make checkout even easier when you next purchase, because we will have saved your bill to, ship to, and payment info for you!
Select I am a registered customer if you have already registered on the new PetEdge.com, enter your E-Mail and Password, and Click Log On
Select I am a new Customer if this is your first time ordering on PetEdge.com or if you created a Log On and Password prior to Aug. 5, 2013
Creating Your Account― Registering is easy! You can use your existing email address, create your password (6 character minimum), fill in your name and address info and that's it! When you have finished filling in all the fields, click Register.
Fields marked with an asterisk are mandatory fields.
Phone and Fax numbers are not mandatory, but are recommended.
2. Billing. Once you are logged on, we retrieve your Bill to and Ship to addresses automatically at checkout, but you can always change or add a new shipping address. Use the drop-down box to choose shipping method.
3. Shipping. Now you're ready to Calculate Shipping Options to retrieve your best shipping options. Use the Drop Down Box to select your Shipping method.
4. Payment. Enter your payment method. Be assured we employ the highest security techniques to keep your info safe.
5. Review and Place Order. You can Review Your Order, Continue Shopping, Go Back to Your Shopping Cart, or Place Your Order.
Order Confirmation. Your order confirmation number is displayed and you can always retrieve it from the Orders section under My Account. You will also receive email verification with details of your order.
MY ACCOUNT
You'll find easy access to all your account information here. You can review and manage your orders, change your account info and preferences, manage your product reviews, even manage your shopping lists.