ORDERING INFORMATION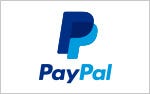 New! Pay with PayPal!
Select PayPal in checkout as your payment method. It's easy, fast, and secure!
Plus, now you can Pay in 4! You can split the order cost into 4 interest-free payments!
Not all customers will have the option for Paypal in 4. Limited to orders of $15 to $1,500. Domestic US orders only.
Not available in NM, ND, SD, MO, WI, NV, RI or any US territories.
For more information about PayPal, see How does PayPal work?
---
A quick note about inventory
The holidays are right around the corner, it's time to start stocking up! We all know this year has been a bit more challenging than others. We encourage you to shop early as there could be out of stock challenges for many of our suppliers closer to the holidays. Take advantage of our products that are in stock now!
We strive to make shopping at PetEdge as smooth as possible, our customer service team is here to help! Please reach out to us with any questions or concerns.
In a year filled with challenges, we thank you for your support and continued loyalty. We look forward to a successful and happy holiday season!
---
The PetEdge team is dedicated to making your online shopping experience an easy one. Here is a brief overview of our ordering procedure.
ONLINE ORDERING POLICY: By using the PetEdge.com Shopping Cart, shoppers can add and remove products throughout their shopping experience.
You may add as many products as you wish, while you travel through our online catalog. Each time an item is added to your Shopping Cart, you will be given a confirmation, reflecting all the relevant details of your chosen item(s).
There is also a current order total shown in the upper right corner of the screen.
By clicking on View Cart, you will be sent to view and edit your individual Shopping Cart and its contents.
All contents of the Shopping Cart will be presented for your approval prior to checkout; you may remove an item anytime by clicking the remove button at the bottom of each product description.
You can also adjust the quantity of product ordering by clicking up and down on the arrows. The price will automatically adjust based on the changes you make to your cart.
Once you have finished shopping and approved the contents, click the CHECKOUT button to complete your order.
On the subsequent page, you will be asked to log on to the site using your existing account, or to create a new account.
SAME-DAY SHIPPING: Most orders placed by 2:00 PM Eastern Standard Time qualify for same-day shipping.
ORDERING BY PHONE OR FAX: Our knowledgeable Service Representatives are ready to take your phone order. Call us toll-free at 1-800-Pet-Edge (800-738-3343).
If faxing, please include the following information: item number, description, quantity, price, shipping address (billing address if different from shipping address), your telephone number or e-mail address in case we need to contact you, method of payment (including credit card number and expiration date), and, if applicable, request for expedited delivery.
BACKORDERS: Items that are out of stock can be backordered, however each individual LINE item must total a minimum of $20 to order. Backorder dates are estimates and can change depending on stock availability. Backorders will not be made on International orders. Backorders will not be held on COD, APO/FPO boxes and orders outside the contiguous US.
TAX-EXEMPT ORDERS: Tax-exempt status is typically available for qualifying businesses, governments, non-profit entities, and educational institutions. To qualify for tax-exemption status, you must have received a determination of federal tax-exempt status with a Federal Employer Identification Number (FEIN) through your state.
To receive tax-exemption status on your PetEdge account, please submit a copy of your completed valid Tax Exempt Certificate. Please email a copy of your certificate to TaxCert@BossPetEdge.com or fax to 1-800-329-6372 . You'll need to maintain a current state Tax Exempt Certificate in accordance with state laws. Once you submit your Tax Exempt Certificate, we'll review the documentation provided within 24 hours. If we need additional information or documentation in order to process your exemption document, our customer-service team will contact you.
To learn more about placing an order on behalf of a tax-exempt organization or individual, please call a PetEdge representative at 1-800-738-3343.
CHANGING AN ORDER AFTER IT HAS BEEN SUBMITTED: We're sorry, orders cannot be changed once they have been submitted. We process orders very quickly, and once an order begins the fulfillment process we are unable to modify it.
We apologize for any inconvenience, and we hope that in the majority of cases our faster processing times work to your advantage.
If you ordered an incorrect item or changed your mind, you may return the product(s) within 30 days from the date of shipment; see our Returns Policy for full details. Please do not resubmit your order online as this will create a duplicate shipment.
Should you have further questions, you may contact one of our Customer Service Representatives at 1-800-Pet-Edge for assistance. Or contact us via email at support@PetEdge.com.
SHIPPING
Express Orders: Express service is available for an additional charge. Call 800-Pet-Edge to inquire about express delivery or log on to PetEdge.com.
Additional Shipping Charges: Items marked "Additional shipping charges apply" require extra shipping and handling charges, due to their large size or weight. These are excluded from the Free Freight Policy and shipping promotions, except where specified. Shipping times for items shipped direct from the manufacturer may vary. Please see website offers for delivery time estimations.
Free* Freight Policy: If your order is being shipped via ground shipping within the contiguous United States (Alaska and Hawaii are exempt) and the merchandise total is more than $99.00, we'll pay ALL of the shipping and handling charges! *Excludes cages and crates, exercise pens, grooming tables, tubs, dryers, large-bin storage containers, large package, motor-freight items, and items shipped directly from the manufacturer.
FREE SHIPPING on Master Equipment & ProSelect: Enjoy free ground/freight on Master Equipment Dryers with promo code DRSHP, and on all qualifying orders of $2,000 or more of select Master Equipment® and ProSelect® equipment and containment items! Any additional qualifying products included with the purchase of $2,000 or more of these select items will also ship free.
This shipping promotion applies only to ground/freight in the contiguous United States. Excludes the non-contiguous states of Alaska and Hawaii and all off-shore United States territories and possessions. If your order doesn't qualify for free ground shipping, your order may contain ineligible items.
A special handling fee applies to orders that require truck shipment or additional services including Liftgate, Inside Delivery, and Residential Delivery Fees. Terms and conditions may apply and are subject to change without notice. See PetEdge.com for details on free shipping and a full list of eligible items.
TRACKING AN ORDER: To Track your orders, log into the PetEdge website and click on the My Account link located in the upper right hand corner of every page. Your Account page has a link to all of your transactions and their delivery status. If you have any questions regarding tracking, please call or email us with your order number. Call us at 800-Pet-Edge or contact us via email at support@PetEdge.com.
PRICE MATCH GUARANTEE: We work hard to guarantee our prices are the lowest. If you happen to find a lower price somewhere else, we will do our best to match it. Email, fax or mail us a copy of the advertisement showing the lower price (must currently be in effect for the identical item). Some restrictions apply. Click here for details.
PROMOTIONAL CODES: Only one promo code may be used per order.
PAYING FOR YOUR ORDER: We accept the following credit cards: Master Card, Visa, Amex, Discover
New! Pay with PayPal! Select PayPal in checkout as your payment method. It's easy, fast, and secure. For more information about PayPal, see How does PayPal work?
Please note: If your order is shipped from more than one location, you will see separate PayPal charges for each shipment. Your total PayPal amount will match your order total.
Important information about your account payments
We have a new Remittance Address for you to send payment on your account.
Effective immediately, all payments should be sent to:
Boss Pet Products, Inc.
P.O. Box 734038
Chicago, IL 60673-4038
If you send payment by wire transfer, please update your payee information to:
Account Number 291011705
Routing Number 021000021
ACH Routing Number 071000013
Swift code is CHASUS33
INTERNATIONAL ORDERS:
From Canada
PLEASE NOTE: Broker Information is now required for Freight Orders to Canada prior to shipment of your order. Your order will be on hold, please call with your Brokerage Information or a Customer Service Representative will review and contact you for Brokerage Information.
Phone: 800-Pet-Edge (800-738-3343), Fax: 800-329-6372.
From All Other Countries: Please send an email to order@petedge.com or fax to 1-978-998-8600 to place an order. For our English-speaking customers, please call 978-998-8100 and follow the prompts for international orders.
On international orders, charges do not include any applicable taxes and duties, or brokerage fees. Taxes, duties, and brokerage fees are the responsibility of the buyer.
We accept Visa, MasterCard, Discover, and American Express.
Please include shipping and handling charges in your payment. Shipping promotions are not available outside the contiguous United States. We do not pay shipping and handling charges to areas outside of the U.S. Customs charges and duties are not charged by PetEdge; contact your local Customs Office for information. To determine exact shipping and handling charges, please contact us by phone, fax, or email at support@petedge.com.
For questions on international orders, please email us at support@petedge.com, or send a fax to 1-978-998-8600. Our representatives will be able to assist you.
Please note, we are restricted from shipping to the following countries: Cuba, Iran, North Korea, Sudan, Syria, Venezuela
We are Coupa Compatible.