Come meet us at an upcoming show!
We've expanded our Tradeshow calendar this coming year, and we'd love to meet you in person! We'll have promotions, demostrations, and much more, so you'll want to come by!
Can't make it to a show? Check out our Trade Show Specials Page! You'll find some great limited time deals during trade shows!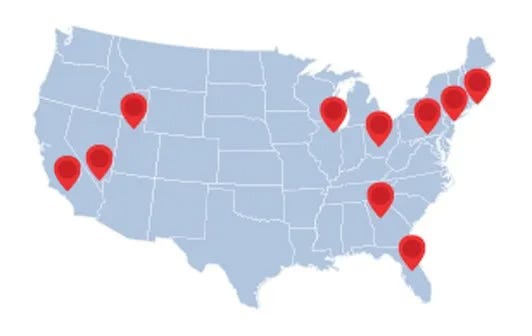 ---
2023 Trade Show Calendar
Schedule subject to change
Intergroom
March 30 – April 2, 2023
Secaucus, NJ
DOWNLOAD YOUR FREE TRADE SHOW PASS HERE!

SuperZoo
Aug. 16-18, 2023
Las Vegas, NV
Groom Expo Hershey
Sept. 7-10, 2023
Hershey, PA
NDGAA Fun in the Sun
Nov. 3-5, 2023
Orlando, FL
---
Frank Rowe and Sons Calendar
February 17-20, 2022
Groom Expo West
Orange County Convention Center | Orlando Florida
March 10-13, 2022
Atlanta Pet Fair
Mandalay Bay | Las Vegas, NV
March 31 - April 3, 2022
Intergroom
Meadowlands Exposition Center |Secaucus, New Jersey
August 4-7, 2022
Renaissance Schaumburg Convention Center Hotel |Schaumburg, Illinois
September 15-18, 2022
Hershey Lodge and Convention Center | Hershey, PA
October 6-9, 2022
Sturbridge Host Hotel | Sturbridge, MA
November 5-7, 2022
The Wyndham Orlando Resort | Orlando, FLorida
Frank Rowe and Son and Bardel Bows

will be at
Fun In The Sun 2022
October 21-23, 2022
Orlando, Florida
The Wyndam Orlando Resort
8001 International Drive
Orlando, FL 32819
(407) 351-2420
Check out our new products, daily giveaways, show only specials, and demos by award winning groomer Melanie Charland!
Saturday 11:30am-12:00pm Wire-hair Demo
Sunday 11:15-11:45 Poodle Demo
Sunday 3:30-4:00 Shih Tzu Demo
Don't miss it! Booths 33, 34, 35, 36
Click here to register and for more info.