---

---
About Us
PetEdge is a leading supplier of wholesale grooming supplies and discount pet products.
PetEdge has always lived up to its name by having an "edge" on the pet supply industry. Today we are the largest supplier to pet care professionals and independent retailers. Groomers, kennels, veterinarians, breeders, and active pet enthusiasts have access to over 10,000 national-brand and exclusive PetEdge-brand products through our catalogs and website. Our mission is to continue finding better ways to serve our customers, and more innovative ways to foster creativity in the industry, until we stand alone as the leader of pet products. We help our customers build their businesses by researching and developing innovative, top-quality products at remarkably low prices. We strive to offer the best customer service in the business as well as fast, on-time delivery.
We believe in developing mutually beneficial relationships with our partners. Our top priority is to create value and put in place strategies that will be beneficial, and offer growth potential, to pet care professionals, groomers, and retailers in the pet supply industry.
How PetEdge Began

Founded in 1956 by Loeb Katz as New England Serum Company, Mr. Katz provided serums to local dairy farms in the Topsfield, Massachusetts area. Product offerings then expanded to include pet products. The first product flyer was mailed in 1968 and the business evolved over the years with the PetEdge name to serve the changing needs of pet care professionals and independent pet supply retailers across the country.
PetEdge Exclusive Brands and Products
We now offer more than 20 exclusive brands of pet products, including Master Equipment™ grooming tubs and tables; Master Grooming Tools™ shears, brushes, combs, nail care products, and other tools and equipment; Top Performance® shampoos and supplies; ProSelect® cages and cage banks; Ranch Rewards® treats; and Zanies® dog toys.
Our product selection includes more than 10,000 pet care products. This includes our exclusive brands such as Aria® and Pet Effects™ as well as products from leading brands like Andis®, Oster®, Wahl®, BioGroom®, Tropiclean®, KONG®, Greenies®, Geib® and lots more.
We're proud of our exciting, new pet products that are both functional and innovative. Our proprietary Cool Pup™ products keep pets cool against dangerously high temperatures and the sun's harmful UV rays. Our breakthrough ThermaPet™ apparel uses advanced fabrics and heat-reflective thermal technology to warm pets using their own body heat.
An Exciting Future
As we look ahead, the new Boss PetEdge is excited about the future. We believe that the animal services industry will remain strong and continue to grow, and that we will continue to be an important contributor to that growth. Through innovative products and excellence of Customer Service, we will always be a valued resource for Pet Care Professionals.
PetEdge is made of real people who are as passionate as you are about pets.
Tech Support and Call Center
PetEdge is dedicated to helping businesses grow and succeed. Our team has a penchant for helping businesses and a passion for customer service. We're happy to give advice about our products or offer assistance to help your growing business.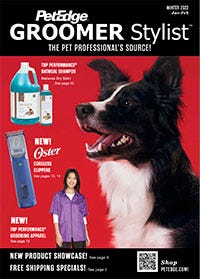 Request a PetEdge Groomer Stylist catalog here
BOSS PETEDGE DEALER SERVICES WHOLESALE PET SUPPLIES
Become a Pet Supplies Retailer!
Whether you are building a new business plan or a seasoned pet supplies retailer, you've come to the right place.
Are you ready to make more money selling pet products?
Increase your profits and sales by teaming up with us–
Apply to become a Pet Supplies Dealer now!
---