Andis® UltraEdge™ Clipper Blades are made from carbon-infused steel for a harder cutting surface that lasts longer. For a dependable, long-life blade, look no further than Andis® UltraEdge® blades. Exclusive hardening process keeps blades sharper for a longer time. Add a special chrome finish that inhibits corrosion and you have cutting solutions that will last for years.
Andis® UltraEdge™ Clipper Blades
are made from high-carbon steel and processed through a unique carburizing heat treatment that actually adds carbon to the metal. More carbon on the metal means a harder cutting surface. Blades hold a razor sharp edge that will endure prolonged use and more sharpening treatments.
Each Andis Ultra Edge dog clipper blade is sharpened to exact quality standards
Hand-tested before it is shipped
Blades have a Rockwell Hardness rating of 65

Size 50SS Blade has a 1/125" blade cut. Ideal for surgical trims. These dog clipper blades are preferred by veterinarians because they are less likely to rust or discolor from frequent use of strong disinfectants.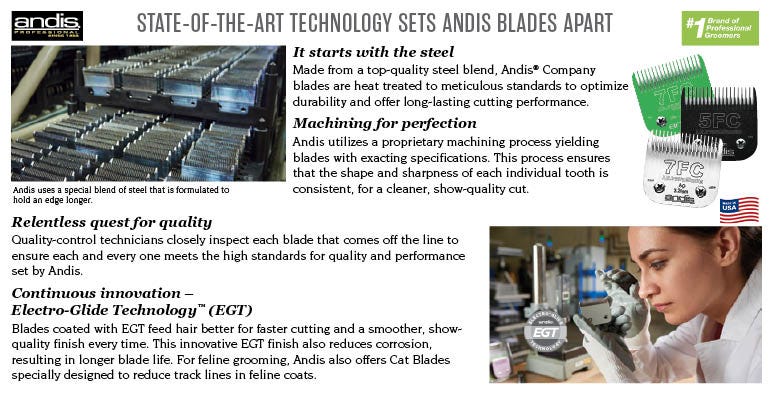 Watch the video to learn more about Andis UltraEdge Blades.
Compatible with Andis®, Conair®, Oster®, and Wahl® detachable-style clippers. 
Material
: Carbon-infused Steel
Cut
: Size 50SS Blade has a 1/125" Blade Cut
Rockwell Hardness Rating
: 65
Blades are available in the following styles:
Size 50 Blade has a 1/125" Blade Cut
Size 40 Blade has a 1/100" Blade Cut
Size 30 Blade has a 1/50" Blade Cut
Size 5/8 Toe Blade has a 1/32" Blade Cut
Size 15 Blade has a 3/64" Blade Cut
Size 10 Blade has a 1/16" Blade Cut
Size 9 Blade has a 5/64" Blade Cut
Size 8 1/2" Blade has a 3/16" Blade Cut
Size 7 Skip Tooth Blade has a 1/8" Blade Cut* Note: Made in Taiwan
Size 7F Finish Blade has a 1/8" Blade Cut* Note: Made in Taiwan
Size 5 Skip Tooth Blade has a 1/4" Blade Cut
Size 5F Finish Blade has a 1/4" Blade Cut
Size 4 Skip Tooth Blade has a 3/8" Blade Cut
Size 4 Finish Blade has a 3/8" Blade Cut
Size 3 3/4" Skip Tooth Blade has a 1/2" Blade Cut
Size 5/8 HT Blade has a 5/8" Blade Cut
*Note: Andis now makes this blade in Taiwan, all others are made in USA
See how to remove and attach an A5-compatible clipper blade:
More Information

| | |
| --- | --- |
| Brand | Andis |
| Product Grouping | National |
| UOM | EA |
| ERP Status | Active |