A low priced dog crate that's easy to use, clean, move, and store. Easy Crates are wire dog crates with dual latching doors on most sizes. Lightweight, folding crates have a top handle for easy transport.
The best crate bargain we offer! Our
Easy Crate Dog Crates
are easy to use and easy on the wallet.
Each wire crate comes complete with a dual latching door to safely secure pets (except X-Small 18"L)
Folds for effortless storage or travel
Includes a slide-out floor tray and a removable divider panel
Easy Crates are available in a range of sizes from extra small to extra large. Assembly instructions included.
Material
: Lightweight wire crate
Size
:
X-Small Crate measures 18"L x 12 1/2"W x 15"H (includes only one latch)
Small Crate measures 24"L x 17"W x 20"H
Medium Crate measures 30"L x 19"W x 22"H
Medium/Large Crate measures 36"L x 22 1/2"W x 25"H
Large Crate measures 42"L x 28"W x 31"H
X-Large Crate measures 48"L x 30"W x 33"H
Care: Wipe clean with a damp cloth
Note: All sizes come with a dual latching door except the X-small.

Sizing Guide: Measure dog's height to the shoulders, and length from chest to rear of leg, then add 4"-6" to each measurement. See below for estimations by breed. For approximation only.
X-Small: Cat, Yorkshire Terrier, Chihuahua, Maltese, Italian Greyhound
Small: Beagle, Boston Terrier, Cocker Spaniel, Pug
Medium: Basset Hound, Bulldog, Keeshond, Norwegian Elkhound, Dalmatian
Medium-Large: Boxer, Standard Poodle, Golden Retriever, Labrador
Large: Afghan, Doberman, German Shepherd, Irish Setter, Rottweiler, Collie
X-Large: Great Dane, Great Pyrenees, Greyhound, Mastiff, Saint Bernard
Wire
Crate Panel: 3.25mm
Corners: 3.0mm
Handle Wire: 7.6mm
Base Bar: 7.5mm

Handle: ABS - Detachable
Note: All wire is gloss black powder-coated

Tray: Semi-Ridgid ABS Thermoform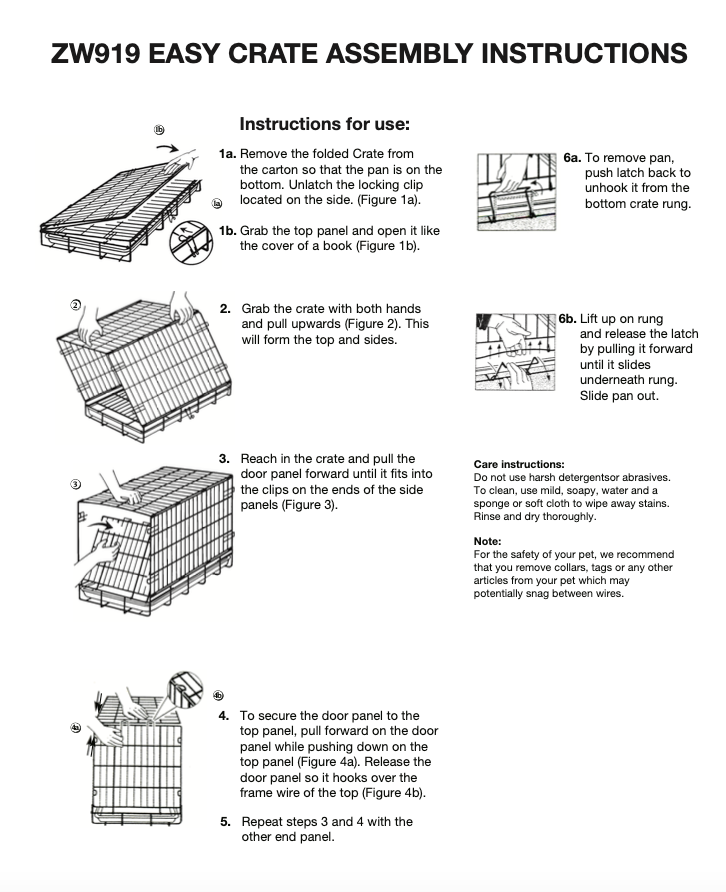 More Information

| | |
| --- | --- |
| Brand | Proselect |
| Product Grouping | Own Brand |
| UOM | EA |
| ERP Status | Active |